The Ultimate Guide to Kids Mattresses
Sleep is an essential part of every child's development, and finding the perfect mattress can help to support this growth. Our complete guide to kids mattresses shares our best advice on finding the perfect mattress for your child.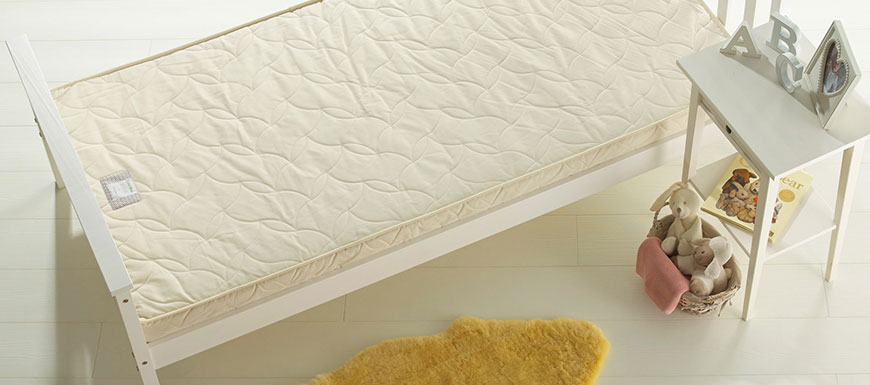 The importance of a good mattress
A good night's sleep is of course intrinsic to this. Child development experts recommend that children get anywhere from 8-12 hours of sleep per night, depending on age. Most parents would agree that the more sleep a child gets the better. Sleep is important as it affects a whole host of daily aspects of life for a child, from attention span, to mood, and even their overall health. Physical development is also hard at play during periods of rest for a child.
As bones as continuously growing so too are muscles and joints. The body goes into repair mode during sleep and this is essential for children who are busy running, climbing and generally monkeying around during the day. Promoting an active lifestyle in children goes hand in hand with a good night's rest.
According to The Sleep Council "A new bed with a supportive mattress is a must for a growing child; an old, lumpy, mattress is not likely to be conducive to quality sleep. Recent research has shown that toddlers can grow as much as 1.5cm overnight*
As children get older, this rate reduces, but most young people are still growing into their late teens and even into their early twenties; so a bed which is large enough and supportive enough is as important to a 17 year old as to a seven year old. *St Thomas's Hospital, London, 1997 An unsupportive bed can result in aches and pains in early adult life. According to BackCare, young, supple backs need a good quality, supportive bed as much, if not more, than an adult."
With so many important developments taking place during the sleep period, it's essential to choose a good mattress which will support growing bodies. This is why Cuckooland wanted to create an ultimate guide to children's mattresses. We hope that our in-depth guide will not only help make that all important decision easy, but also help parents to understand just why a good mattress is worth so much more than the price you pay.
Children's Mattress Types
Believe or not there are quite a few children's mattress types to choose from. Whereas adults tend to put the type of mattress at the top of their wish list, very few consider factoring in the same when choosing a child's mattress. With a whole host to choose from the confusion factor will rise for any parent. So allow Cuckooland to remove the stress by explaining what the most popular types of mattress are and their benefits.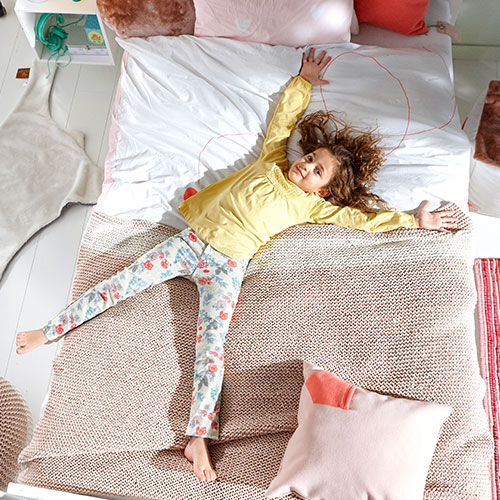 Children's Mattress Sizes
It's important to consult the specific dimensions of your little one's bed before purchasing a mattress. Some children's beds can require a custom sized mattress which is usually noted on the bed. If you're not sure of the specific dimensions of your child's bed it's always worth contacting the manufacturer or having a quick search online.
Children's mattresses vary more than adult mattresses as there are more options when it comes to a child's bed. For example, some parents will transition a toddler from cot to single bed, however, there are toddler beds available which require a smaller mattress and bedding. Again, it's worth noting the specifics of the child's bed, a custom sized bed will usually be labelled as such.
TODDLER BED
70 cm x 140 cm
EUROPEAN SINGLE
90 cm x 200 cm
Choose the Correct Firmness
For most kids a bed isn't just a place to sleep, it's also a place to play, climb, build hideaways and bounce ALOT! With the level of wear and tear a mattress takes on, firmness is an essential consideration. Firm mattresses can help aid the growth and development of children whilst they sleep. Firm mattresses can provide support to growing joints and bones as well as providing good support for spinal alignment. Foam mattresses can provide just as much of this much needed support but its worth checking that the foam mattress has a good density.
The extra firm mattress typically feature a compressed coil system with a mixture of fillings between these coils. The Open Coil and Superior Sprung mattress would fall into the extra firm bracket because of their unique design. Extra firm mattresses are considered a good mattress for sleepers who tend to favour lying on their back.
A typical firm mattress is what you will usually find when searching for a child's mattress; the pocket sprung mattress is a good example of this average firmness standard. They are considered the standard model of mattress and have been traditionally considered the "healthiest" for the back.
Plush Firm is a relatively new term when it comes to mattresses. Plush firm is used to describe mattress that contours and shapes to the body, giving even support and comfort. The Memory Foam or Memoflex mattress are considered plush firm as they give great support with built-in flexibility.
Durability
Let's be perfectly honest, we as parents all want things that last. A child's mattress that is built to withstand some serious playtime is needed when it comes to your child's bed. Durability should be one of those key considerations when purchasing a mattress. Not only will this mattress be subject to gymnastics, pretend battles and occasionally be turned into a slide. But it will also have to contend with spills, the occasional late night accident and a whole host of other mini disasters. With this in mind it's important to check things like mattress depth, if the cover is removable/washable or if it features a mattress protector. You will want to get the most out of this mattress so it's worth investing a bit more in order to get a healthy lifespan.
Open coil mattresses may be regarded as budget-friendly, but they are considered to be a little less durable when compared to foam mattresses. That being said, a pocket coil mattress is known to take on body weight more effectively which means it can be better for growing children.
Memory foam is often considered the most comfortable of all mattress types, but it can release a relatively strong odour which could irritate children. Nature fibres, such as cotton, are considered universally durable and long lasting so it goes without saying that mattresses made with natural fibres will last longer than synthetic materials.
Allergies
If your little one suffers with allergies it's important to remember that anti-allergy mattress covers or bedding may be required. Some of our mattresses already have anti-allergy covers included but with any purchase of this nature it's always best to read the fine print. If your chosen mattress does not have an anti-allergy cover you can easily pick one online.
Bed-wetting
Another aspect to consider is if a waterproof mattress protector is required. Unfortunately all children can have little accidents now and again, so in order to protect the mattress it may be worth investing in some waterproof mattress protectors. A protector can ensure that you get the maximum usage our of the mattress and it last for years to comes.
It's important to consider what level of absorbency will be required from a mattress protector. Does your child tend to produce small or large accidents? This will lead the way when it comes to purchasing the best protector for your child. Another important point to consider is the waterproof materials used within the protector. Polyurethane is good for warmer climates as it doesn't absorb body heat, however polyurethane can be more expensive due to its breathability. If heat isn't an issue vinyl covers can be used.
A typical mattress protector features three layers: an absorbent layer, a waterproof layer, and a top layer for comfort. Replacing a mattress is a lot more expensive than replacing a protector, hence it's often best to invest in the prevention rather than cure approach when it comes to a protecting your child's mattress.
Our professional assembly team is always on standby to answer any questions you may have – simply call us on +44 (0) 1305 231231 Mon-Fri 9-6pm or email customerservice@cuckooland.com and our super friendly team will reply immediately.